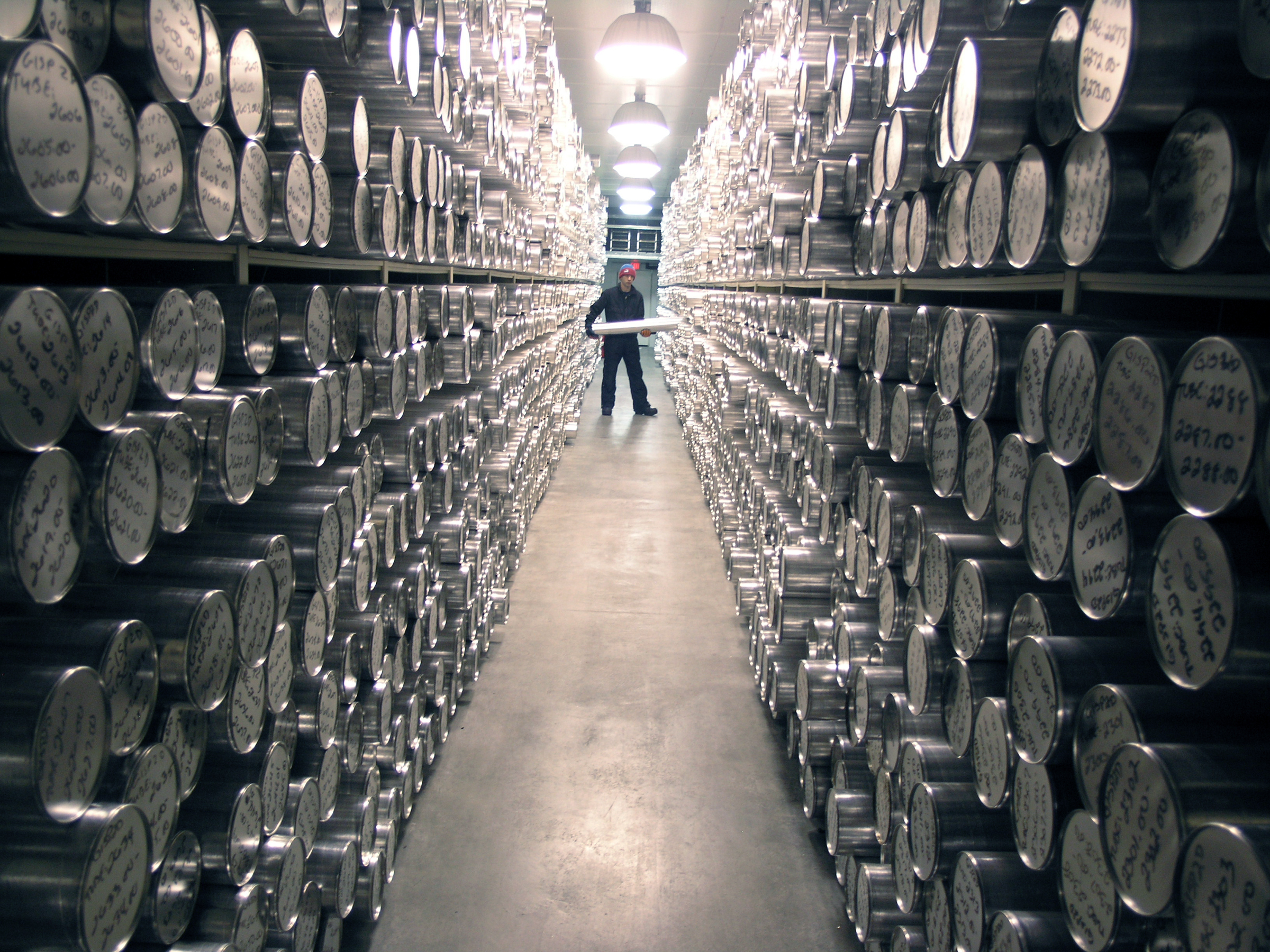 THE NATIONAL ICE CORE LABORATORY (NICL), at the Denver Federal Center is a physical plant for storing, curating, and studying cores. The cores are collected from polar and other glaciers around the world. These cores represent a long-term, unbroken record of material deposited by the earth's atmosphere. The Lab provides scientists with the capability to conduct examinations of ice cores without having to travel to field sites, and it preserves the integrity of these ice samples in a repository for the study of global climate, changes and past environmental conditions. The facility houses the world's most comprehensive ice core collection available to the scientific community. NICL is a joint program funded by the U.S. Geological Survey (USGS) and the National Science Foundation (NSF). NICL is overseen by a governing board of research scientists, the Ice Core Working Group, which sets and approves policies, and approves allocation of samples to researchers.
NICL's archived collection of ice cores is kept in the Main Storage area of the lab which consists of 55,000 cubic feet of freezer space maintained at -36°C. Visiting scientists prepare and measure samples in the 12,000 cubic foot of the Exam Room which is held at -25°C. A Class-100 HEPA-filtered, cold clean room is provided for treatment of environmentally sensitive samples. A warm ante-room is available for suiting-up and taking short breaks. The Dock serves as a receiving area for incoming shipments of ice and also acts as a de-humidifying buffer for Main Storage. The Machine Room houses the computer controlled refrigeration system.
NICL currently stores over 13,700 meters of core collected from 100 different bore holes in Antarctica, Greenland, and North America. Main Storage presently contains over 12,700 tubes of ice samples. Among the most interesting samples are Summit Greenland (~110,000 years old) and Vostok (~450,000 years old) cores. The collection includes most of the samples remaining from deep-drilling projects funded by the NSF for more than 40 years. Cores recovered from 1958 to the present are stored at the NICL facility located in Denver, CO.
Tours are provided on request, dependent on availability. Due to heavy demand, providing alternate dates is advised. On the day of your tour, please be sure to bring a good winter coat along with hat and gloves. This will ensure comfort in the colder areas of the tour. To schedule a tour, or to receive a brochure about NICL, contact the curators at 303-202-4828.