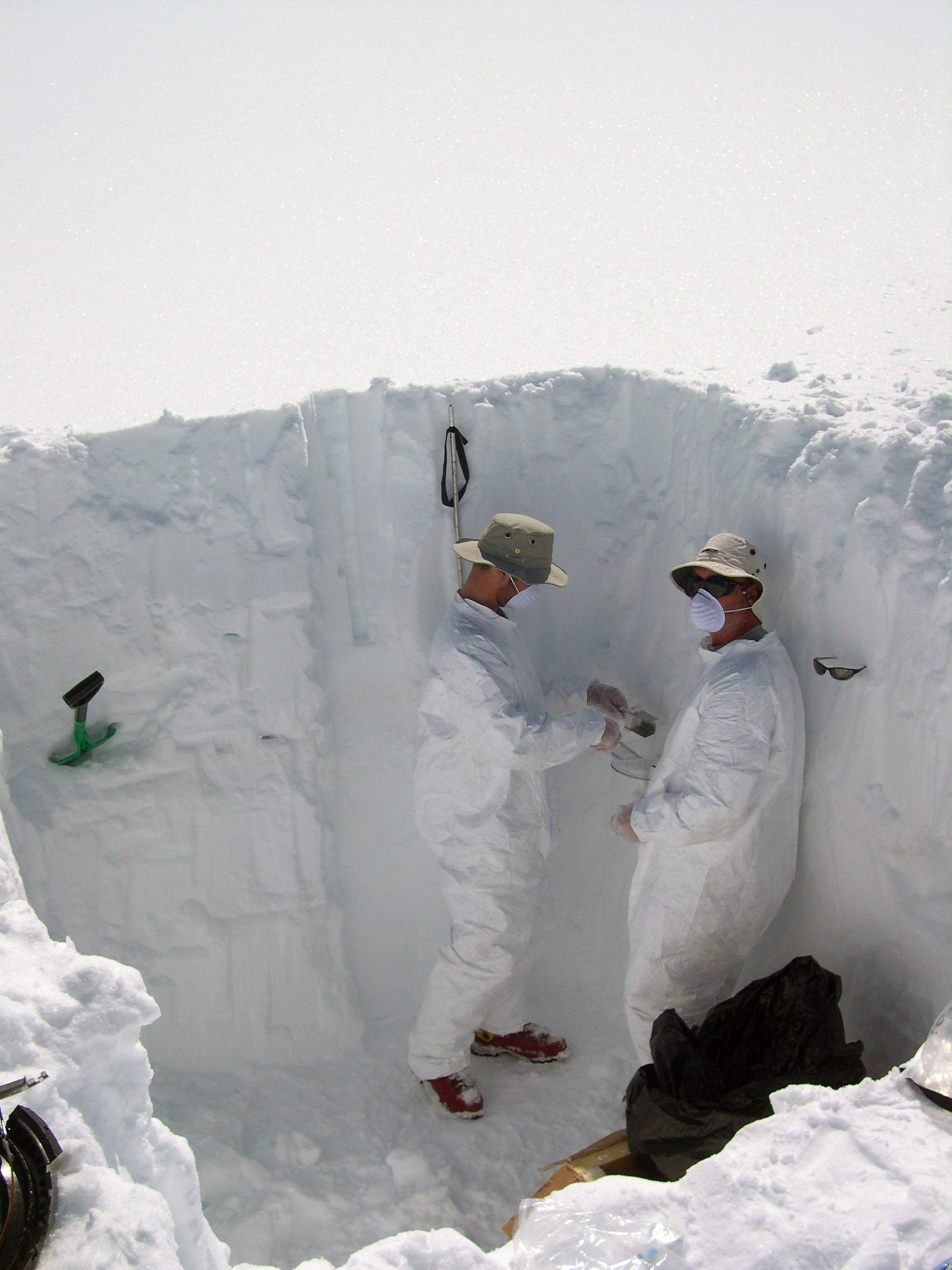 While long-term climate variability in central Alaska has been mapped, high-resolution records of Holocene climate variability have been lacking from central Alaska. However, a collaboration of scientists from New England is working to recover valuable information from the ice in Denali National Park (DNP). Denali, meaning "the great one" in native Inuit and better known as Mount McKinley to many Americans, is located in south central Alaska about 300 km north of Anchorage. Researchers Dr. Cameron Wake and PhD student Eric Kelsey (University of New Hampshire), Dr. Karl Kreutz, and Masters students Ben Gross and Seth Campbell (University of Maine), Dr. Erich Osterberg (Dartmouth College), and Mike Waszkiewicz (Canadian ice core driller) recently completed their first reconnaissance expedition to identify suitable locations to drill a deep ice core on the shoulders of the majestic mountain.
Their overarching goal for this research is to obtain a very high resolution, 500-year or longer ice core record in 2010 from which to reconstruct climate and environmental variability in the Alaska-Arctic-North Pacific region. "Relative to the North Atlantic basin, for example, we still have much to learn about the climate of the Arctic and North Pacific region and how it behaves with the rest of the climate system," Kelsey explains. The core they plan to drill should provide a continental and Arctic climate signal, due to its inland location, that will complement the maritime climate signal already obtained from ice cores drilled in the St. Elias range in Yukon Territory. Developing this new information will add another important piece to the building Earth climate system puzzle and how the climate of different parts of the globe varies and interacts with the rest.
Their three-week long tour of the glaciers in DNP in May 2008 began with a pair of reconnaissance flights to survey the Alaska Range for possible drill locations. The flights revealed interesting high-elevation saddle sites at Mt. Spurr and Mt. Hayes. And on the southeast corner on the edge of DNP, a large icefield near Mt. Russell looked promising enough to merit a modification in plans to become a focus for the 2008 field season.
"Our reconnaissance field season helped us identify several potential sites to recover a suite of surface-to-bottom ice cores," says Cameron Wake. "Now we just need to study our geophysical and glaciochemical records to pick the spot for our deep coring program".
The team took completed geophysical surveys and collected snowpit/firn core samples at two locations in DNP. At about 9700 feet, Kahiltna Pass marks the western margin of the large Kahiltna Glacier and is just off the popular West Buttress climbing route that leads to the peak of Denali. The second site, northeast of Mt. Russell on the Upper Yetna Glacier and 20 miles southwest of Denali, is approximately 8700 feet in elevation and rarely visited by climbers. At both sites, the team sampled snow from four-meter snowpits and then manually drilled firn core down to a depth of ~20 meters.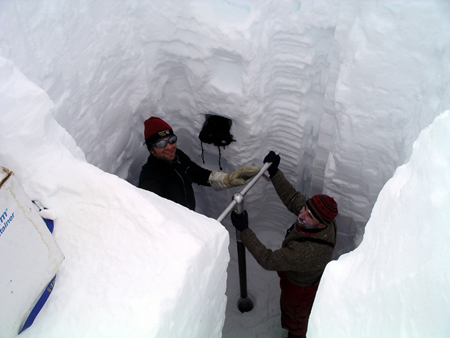 A ground-penetrating radar was towed across a detailed grid at each site to obtain data on sub-surface glacier stratigraphy. In addition, GPS measurements were taken on the grid to determine surface flow rates. From these snow and firn samples and geophysical records, which currently are undergoing analysis, the researchers will determine how much snow typically falls each year, the types of storms that produce significant snowfall in the region, the types and sources of pollution that are transported into DNP, and whether or not either location has undisturbed, horizontal layering of the snow.
Thus far, preliminary analysis of the occurrence of small melt layers shows that both sites likely exhibit very high annual accumulation rates — more than two meters water equivalent. The scientists are now preparing a second proposal to the National Science Foundation to fund the deep drilling program.
A weather station was installed at Kahiltna Base Camp (7200 feet) where most climbers begin their mountaineering expeditions. The weather information logged will inform the team on how various storms impact this part of DNP.
Plans are underway for a second reconnaissance expedition in May 2009. Weather station observations will be retrieved and will be reconciled with snow samples to be taken then and used as an analog for the calibration of the samples taken in May 2008. If everything goes well, a high-resolution ice core will soon shed light on the mysterious climate of Denali.