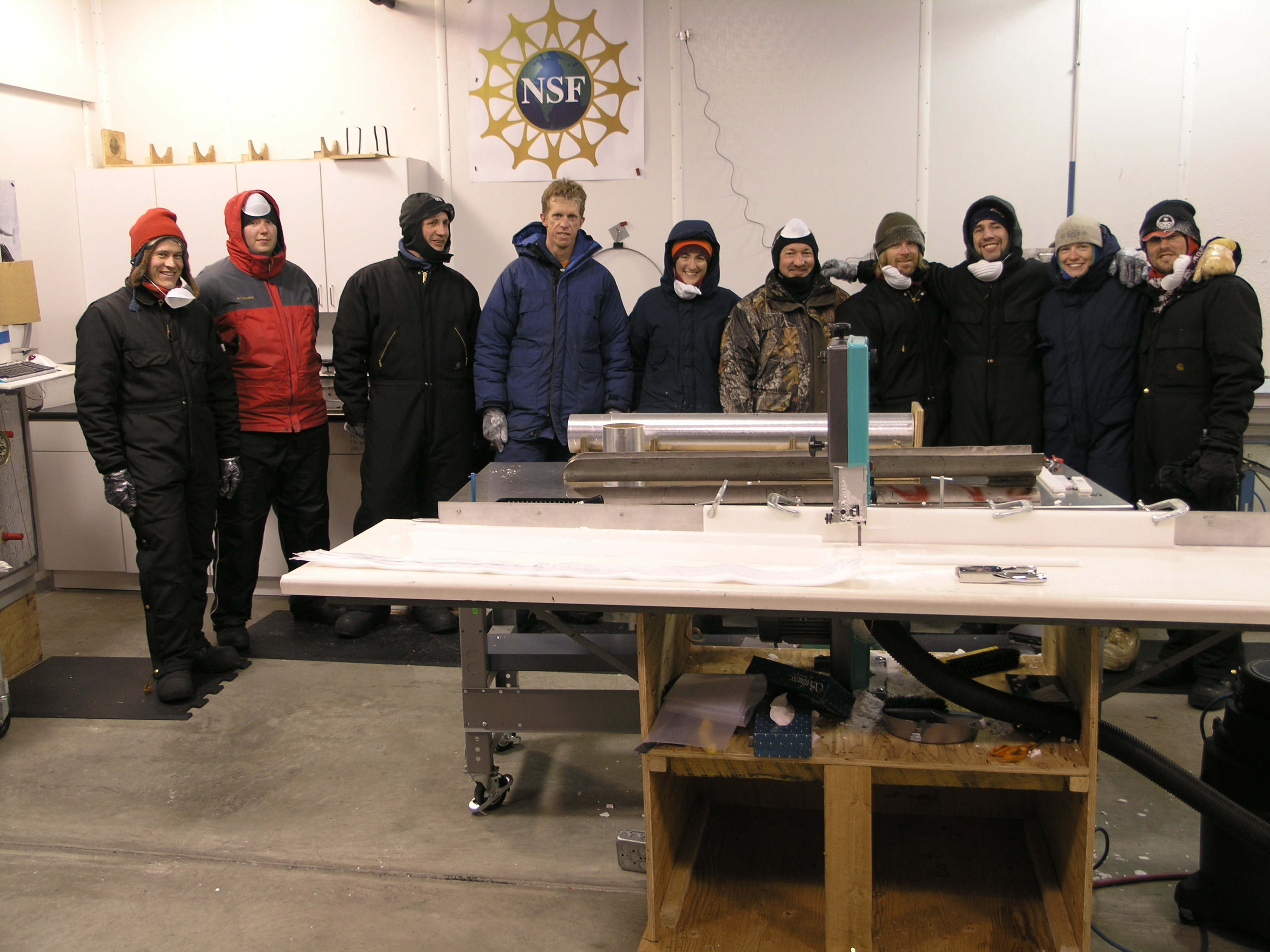 The West Antarctic Ice Sheet (WAIS) Divide Ice Core project is progressing very well. In June we processed the top 110 meters of the main ice core drilled during the 2006/2007 field season at the National Ice Core Laboratory (NICL) in Denver, CO. On October 4-5 the first annual science meeting was held at Lake Tahoe. Sixty-eight people attended the meeting and twenty-one science talks were presented. In addition to the science meeting, a gas group meeting and a borehole logging planning meeting were also convened.
The 2007/2008 field season at WAIS Divide is rapidly approaching and everyone is excited to start drilling with the new DISC drill. Ice Coring and Drilling Services (ICDS) finished all of the post-Greenland Field Test modifications to the DISC drill with plenty of time to spare and the drill is now on its way to Antarctica.
Preparations for the 2007/2008 field season at WAIS Divide are complete thanks to the Herculean efforts of Matthew Kippenhan (Raytheon Polar Services – camp logistics), Joan Fitzpatrick and Geoff Hargreaves (NICL – core processing equipment), and Alex Shturmakov and Jay Johnson (ICDS – drilling).
It is going to be a very busy season at WAIS Divide this year. This will be the first winter-over with all of the field camp stored outside on cargo lines, rather than stored inside the arch facility as during the 2006 winter. It is expected to take several weeks to get the camp up and running to the point where it can support larger populations. On October 24, six camp staff safely arrived to WAIS Divide via a Basler airplane and started the long process of digging the camp out.
The anticipated field schedule is as follows:
01-December: key ICDS personnel arrive at camp. Move DISC cargo into arch and start drill installation
07-December: NICL, SCO, and some science technicians arrive at camp. Move core processing equipment into arch and begin CPL installation
3rd week of December: start drilling operations
23-January: start ICDS/SCO redeployment back to McMurdo Station and start arch shutdown
~ 28-January: all remaining ICDS, NICL, and SCO personnel leave camp
7-8 February: all camp staff back at McMurdo Station and WAIS Divide is closed for the season

If all goes according to schedule we'll be drilling by late-December. After a little warm-up time operating the DISC drill and handling the core the plan is to switch into a 6 days/week, 24 hours/day drilling operation. The goal is to drill at least 800 meters this season. All non-brittle ice will be retroed to NICL. All brittle ice will winter-over at WAIS Divide.
For the latest news, updates and photos visit the WAIS Divide project website at:
http://waisdivide.unh.edu/